Peter Elbourne : « I help overseas businesses to expand into New Zealand »
Peter Elbourn likes to refer his life to Slumdog Millionaire. The man who was able to answer every question in a TV show thanks to his life's experiences. Meet this man, who helps overseas businesses that are looking to expand into New Zealand and grow a market presence through business advisory and strategy as a service.
Hello Peter, can you introduce yourself?
My name is Peter Elbourne. I have worked as an Aircraft engineer in New Zealand for a long time. I also worked with Airbus SAS based in Blagnac, Toulouse at the Central Entity. The division I worked for was the Engineering Department, Airbus' Repair, Modification and Embodiment Customer Support Team. I was lucky enough to be part of a global support team that worked with multiple stakeholders such as customers, staff of airlines that purchased aeroplanes from Airbus, investors, suppliers and executive leadership teams of multi-million dollar organisations. The most interesting project was the introduction and entry in service of the A380 program this was a world first and I was lucky to be part of something special. This is where I really learnt the art and science of project management and program delivery.  I also got the opportunity to play professional rugby in France.
Can you tell us more about the rugby part?
I had been played in New Zealand for a long time, but before that I grew up in the competitive swimming sport arena. I was doing a lot of competitions and thinking about the Olympic Games at one stage. However I was not able to qualify, thus I simply switched up the sport activity and there myself into Rugby. This was when I had moved to New Zealand to study aeronautical engineering. While playing in Christchurch, New Zealand, I learnt a lot about rugby and the culture of New Zealand rugby, after all this the region where the legends such as Daniel Carter and Richie McCaw came from. Before joining Airbus almost a decade after arriving into NZ, I had an opportunity to play rugby next to Toulouse, which is famous in the rugby world. Playing rugby taught me a lot in my professional life. I learned how to build networks, good relationships, how to coach, it actually helped me to find some jobs. Being in contact with different cultures makes you adaptable.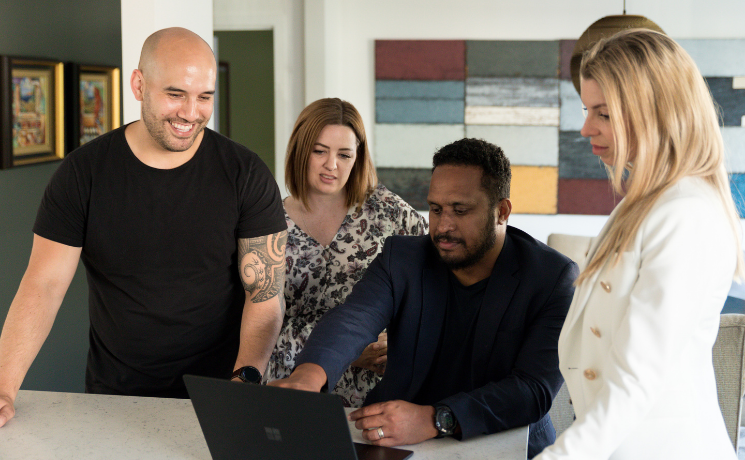 You decided to leave your job during lockdown to go full-time on your business. Most of the people would have thought that it was full-hardy. How did you manage?
They did actually! When I asked my boss to be made redundant, they did not want it at first, because I was a real asset to the company thanks to my experiences. However, I did it. Covid came, and kind of put everything in perspective like for most people. I looked back at my life, and it reminds me of the movie, Slumdog Millionaire it was about a young Indian boy who jumps onto the game show "Who wants to be a millionaire" and answers every single question and wins the grand prize. The movie looks at the life a teenager from the slums of Mumbai becomes a contestant on the show Kaun Banega Crorepati. When interrogated under suspicion of cheating, he revisits his past, revealing how he had all the answers. His experiences in life allowed him to answer some of the hardest questions.  I felt exactly the same feeling when COVID-19 hit the aviation sector.
I started my career as an aeronautical engineer, worked in oil and gas, worked with a globally MNE, AIRBUS and after returning from France I went back to university and studied completing a double major in Economics and International Business.
Started my business in 2017 help micro-SMEs and just took the opportunity because I thought it was the right time to do it. It started of as wanting to help medium to large enterprise and corporates that would need strategy support. This eventually led to recognising that wanted the Pacific and Maori businesses community needed people like my expertise and me. It all started with a major contract to help a Pacific business to get some trust with the government agency.  Today, I am engaged with more established businesses that are looking to grow and get funding in New Zealand.
You mostly help businesses that want to get established in New Zealand. What are the differences between doing business in NZ and in any other country?
In New Zealand it is easy to start, it is the perfect place to launch something because of the size of the population and localization. It is what happened with payWave/EFPOST.
However, you have to be able to understand the cultural differences and the customer's mind. The average Kiwi is looking for a bargain. They love discounts! A lot of Kiwi brands have built their business model around this mentality of the customer base. Kiwis are not always so willing to spend money so easily or freely as their counter parts in Australia or Europe.  One of the reasons is because the NZ corporate and market are small, so the brand power is highly contested and can sometimes be small. In addition to this sometimes a competitor within the market is offering similar prices almost reflecting a duopoly or cartel type arraignment in the market place. So sometime a new entrant company is faced with late comer strategy to the market and this can be overwhelming and costly.
Regarding the B2B relationship, it is also very important. First, you meet up and then you talk about business. Also, I recommend being very clear on the agreement. The corporate culture is very different because the country itself is young in comparison to France and most developed countries in Europe.
What will be your 3 advice for someone from France, New Caledonia or French Polynesia who wants to establish a business here?
1. To understand the niche, because it is a very different culture.
2. To understand the problem, you are going to solve.
3. Understand what promises you can make to deliver on problem you are solving in the market here. This is important especially how you are going to deliver, because the Kiwi customer base is loyal and you have to be aware of that.